Cambodia's Traffic - New traffic laws were implemented this week in Cambodia. The image below is very accurate... If laws are enforced, this will be a very good thing - see accident stats below. At times it was adrenaline-pumping scary being driven around in a tuk-tuk or on a moto, by the grace of God we came out alive.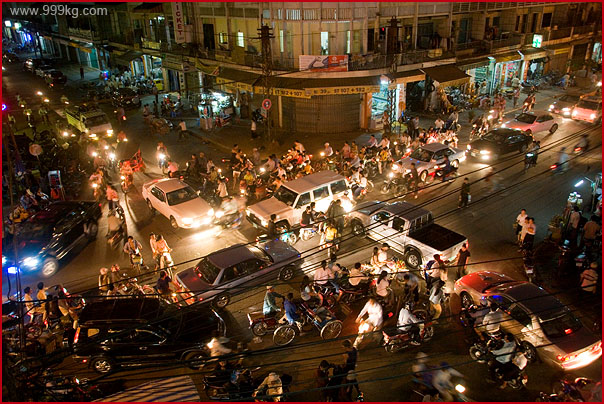 Source: Xinhua
Cambodia's comprehensive new traffic law, signed by King Norodom Sihamoni on Feb. 8, was officially launched here on Tuesday with the attendance of approximately 1,000 people and ambassadors to Cambodia, local media said on Wednesday.Deputy Prime Minister Sok An, also Minister of Council of Ministers, who presided over the event, said that the announcement on the official implementation of the new traffic law was hoped to encourage all Cambodian nationals to change indifferent attitudes to the law, increase understanding about the law and respect it while driving their vehicles, said Cambodian-language newspaper the Rasmei Kampuchea.
The deputy minister said efforts to strengthen the implementation of traffic law, which is an effective means to reduce road accident rates, are also hoped to contribute to the development of social economy to rapidly eradicate the poverty of Cambodian people.Public Works and Transport Minister Sun Chanthol stated that most traffic accidents in Cambodia, where about four people died and 17 were injured by road accidents each day in 2006, are caused by human error including speeding and drunk driving, which accounted for 94 percent.
Based on the new law, drivers of vehicles over 49cc are obliged to hold licenses with each license having 12 points, according to English-language newspaper the Cambodia Daily.Points will be deducted for violations with one point being docked for driving without a helmet, while more serious violations like drunk-driving will result in up to six points being deducted. If a driver loses all of his points, he or she loses his license and will not be granted a new one for at least six months.
The Asian Development Bank (ADB) reported that in 2003, Cambodia lost 116 million U.S. dollars, or 3 percent of GDP, as a result of traffic accidents.